PROFILE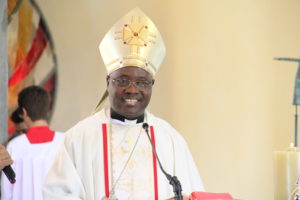 Born in the Nigerian State of Taraba on the 31st July, 1958, Archbishop Ignatius Ayau Kaigama was ordained a Catholic priest in 1981. In 1995, became the first Bishop of the Diocese of Jalingo, the capital city of his home State of Taraba. In 2000, he was installed as the Archbishop of Jos, capital of Plateau State. He is the founder of the Dialogue, Reconciliation, and Peace Centre, Jos (2011). He was elected President of the Regional Episcopal Conference of West Africa (RECOWA) in Ghana 2015 and was the President of the Catholic Bishops' Conference of Nigeria (CBCN) for six years. 
He has held positions as Chair of the Plateau State Inter-Religious Council for Peace and Harmony and Chair of the Christian Association of Nigeria (CAN), in Plateau State. He was also a member of the Solomon Lar Presidential Committee mandated by the Federal Government to look into the causes of the Plateau ethno-religious crises and to proffer ways of bringing them to an end. He has been invited to Europe, America and parts of Africa to share his understanding of interfaith collaboration and peaceful coexistence and also to explain the situation of the Church and the Nigerian nation.
He holds a PhD in spiritual theology from the Pontifical Gregorian University in Rome, Italy and two honourary doctorate degrees in Public Administration and Human Resource Management by Godfrey Okoye University, Enugu (2015) and Madonna University (2016) respectively.
To read more, go to PROFILE