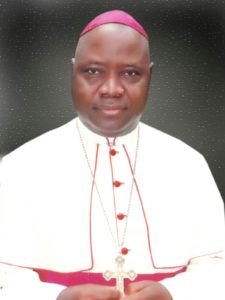 Catholic Archbishop of Jos, Nigeria                                                                                                              
          President, Regional Episcopal Conferences of West Africa                                                                                     
          Founder, Dialogue Reconciliation and Peace Centre, Jos                                                                                        
          Recipient, International Dove Peace Award                                                                                                                  
          Chancellor, Godfrey Okoye University, Enugu                                                                                                            
          Distinguished Patron of Dialogue                                                                                                                                      
Motto: PER CRUCEM AD DEI GLORIAM (Through the Cross, for the greater glory of God)
Priests are challenged to proclaim the gospel by employing the latest generation of audiovisual resources (images, videos, animated features, blogs, websites) which, alongside traditional means, can open up broad new vistas for dialogue, evangelization and catechesis.
Thanks to the new communications media, the Lord can walk the streets of our cities and, stopping before the threshold of our homes and hearts, say once more, "Behold I stand at the door and knock. If anyone hears my voice and opens the door, i will enter his house and dine with him, and he with me." (Rev 3:20).
(Message of His Holiness, Pope Benedict XVI for the 44th World Communications Day, "The Priest and Pastoral Ministry in a Digital World: New Media at the Service of the Word," 16 May 2010).
Stay in touch for updates on homilies, papers, pastoral messages, initiatives and other news by God's servant, Most Rev. Dr Ignatius Ayau Kaigama. Explore the richness of the Catholic faith and share same with your family and friends.